#25. Martha Washington is the only woman whose portrait has appeared on a U.S. currency note.


Applying to College
Setting a budget while planning college applications is important—find out why.
If you're a senior and haven't sent out any college applications yet, you might want to start thinking about it. And step one should be figuring out your budget. If you're not a senior, feel free to keep reading—this might not be applicable this year, but it will be helpful in the next few years.
What are you budgeting for?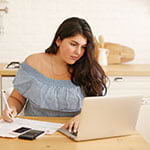 Getting into college is more than sending out applications. There are tests, prep programs, books, campus visits, essays, interviews, and transcripts. Not only are there a lot of things to get organized, but they all also have costs associated with them.
Test prep.
Most schools are going to require the ACT or SAT. Both have plenty of books to help you study and get the best results. Those test books cost about $20 to $30 each. If you're applying to a variety of schools you might need to take both, meaning a minimum of $40 in books.
There are also online and in-person test programs that will get you ready for the tests. These can range anywhere from $40 for an online program to $6,500. Obviously, there is a huge difference in price. Read about each program, figure out how it fits your style of learning, and make the decision based on what your needs and what your budget are.
Tests.
The ACT and the SAT are the two tests that colleges recognize. Most schools will accept either test and there is a movement to make them optional. Both exams are similar, although more time is allowed per section on the SAT and the ACT has a science section. The ACT is $65 if you choose not to take the essay portion, $85 with the essay. While the SAT is $52 for the exam without the essay and $68 for the essay. The essay will help you stand out but isn't required.
Choosing which test you take shouldn't be based only on price. If you want to go into science, engineering, or math; take the ACT as it has slightly more content on those subjects. If you plan on going into English, writing, or something similar; the essay will help you stand out.
Both tests offer fee exemptions for students who can't afford to take the exams. If you think you qualify, it's worth the time to look into what it takes to get the fee exemption.
A lot of people also take the exams more than once, hoping to get a feel for it and then addressing their weaknesses on subsequent attempts, paying each time. This can be avoided by taking practice exams that are often found in prep books and online. Use the cheaper resources before you spend money on unnecessary retakes.
Campus visits.
The campus visit is a time-honored tradition when looking at colleges. The key to saving is planning. Most schools are rather flexible in their scheduling visits, so as long as you're not planning on visiting during a break, you should be fine when you go.
Another tip is to plan the trip in order—make a loop. Schedule your visits so that you won't have to backtrack. You can also plan more touristy stuff on weekends along the route.
If you need to fly to a visit, plan on doing something similar, but more condensed. A lot of schools offer prospective students the chance to stay the night in the dorms. If you've flown in and plan to see more than one school, all dorms are basically the same. Try to go to more than one school a day.
Transcripts.
Every high school is going to be different. Some maintain their own records and send out transcripts to any school you request for free. Others use a third party to send out records and there might be a small fee to send transcripts. It won't be more than a few dollars each, but it's still something to think about.
Applications.
Finally, the most important part: the actual applications. For the most part, every college application is the same. They're going to have you fill out some basic information, maybe answer a few short questions, and then an essay. The fee to apply averages $50 per school.
As college admissions get more competitive, there are services out there to help write the perfect essay. This can cost anywhere from $35 an hour to thousands of dollars. You could also ask your English teacher to help, or someone else in the school depending on the subject matter.