Credit can be useful—if you use it as a tool to help you reach your goals. Be careful! Some companies and people don't want to help you; they just want to help themselves to your money.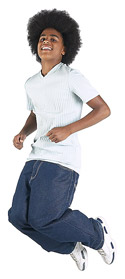 Here are four things to look out for.
Pre-approval
"Congratulations! You've been pre-approved for a credit card!" What does "pre-approval" really mean?
It means that you can sign up for a credit card offered by that particular company. Be careful, though! Just because you get an offer, doesn't mean it's a good offer for you. Credit card companies are in the business to make money, so don't apply for a credit card that you don't need. If you're thinking of applying, read the fine print and remember to shop around.
Bottom line: That won't be the last offer that you receive for a credit card. Wait until you're ready…and then choose the company whose card you want.
Remember, credit unions often offer credit cards with lower interest rates than are available elsewhere.
Credit Cleaners
In a word: Avoid! You'll hear ads on the TV and radio. You might even get e-mails offering to help you "repair your credit quickly and easily!" Ignore these offers. These types of "services" can end up costing you more money than you actually owe your creditors.
You are the only one who can improve your credit rating. The best advice? Be careful with your credit from the start, and don't get in over your head.
Identity Theft
How can someone steal your identity? According to the Federal Trade Commission (FTC) identity theft occurs when someone uses your personal information without your knowledge to commit fraud or theft. What information do the ID thieves use? Your name, Social Security number, credit card number, or some other piece of your personal information are most commonly used.
There are ways to protect yourself. Visit the FTC's Identity Theft Web Site for tips on protecting your personal information.
Unauthorized Charges
Watch your credit card. If it's lost or stolen, report that immediately to the credit card issuer. If your card is used without your permission, you can be held responsible for up to $50 per card.
In fact, federal law limits your liability for unauthorized charges to $50.00 per card. For more information, visit the Federal Trade Commission's Web site. However is you report the loss of your card before it's used, then you can't be held responsible for any unauthorized charges.
Remember to report your lost card as soon as possible. If your issuer has a 24-hour, toll-free telephone number, use it. Then follow up with a letter to the issuer, including your account number, the date you noticed your card missing, the date you reported the loss.