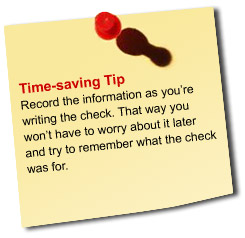 You're not finished yet! You should always keep track of how much money you have in your account by using your check register.
A check register is a booklet that is used to keep a record of all your checking related transactions, including checks written and deposits. A checkbook register is used to perform reconciliation. So, after you write a check, record the following information in your check register:
Check number
Date
Who the check was written to
What the check was for
Amount
Account balance
To see what goes in each area of the sample check register below, place your cursor over the blank lines:
When you use a debit card, the money is deducted from your checking account. So be sure to use the check register to record any purchases that you make with your debit card. Instead of the check number, you can use DC as an abbreviation for "debit card." Now...stage 3!