Are you ready to begin investing your money in stocks and bonds?
Until you reach the age of either 18 or 21 (which is the age of majority depending on where you live), you won't be able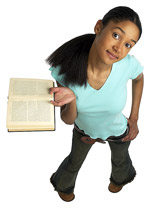 to own stocks or open a brokerage account. Until you reach the age of majority, consider a custodial account, which is set up and controlled by an adult for a minor. Discuss this option with your parents. Be sure to let them know that once you reach the age of majority, you will have full rights to the assets in a custodial account.
No matter what age you are, it's a good idea to learn about investing wisely. Click on the links below for:
For additional investing information, visit the Securities and Exchange Commission and click Investor Information. The SEC's Office of Investor Education and Assistance provides a variety of services to address the problems and questions you may face as an investor. While they cannot tell you what investments to make, they can tell you how to invest wisely and avoid fraud.